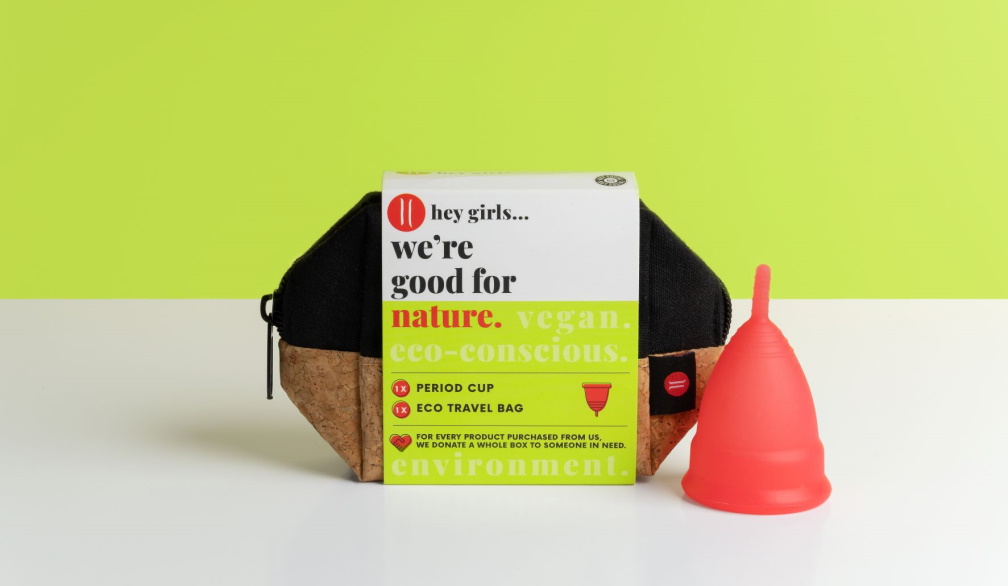 Research reveals single-use menstrual products are a significant contributor to single-use plastic waste globally, with products such as pads and tampons containing up to 90% plastic1, highlighting the need for a shift towards sustainable period solutions.
The average menstruating person uses 11,000 disposable products in their lifetime, with disposable period products making up 200,000 tonnes of waste each year.
A shift towards reusable menstrual products is set to have significant benefits in terms of pollution reduction and affordability, with one study finding the impacts of using a menstrual cup for one year resulted in less than 1.5% of the environmental impacts of disposable period products and came out at approximately 10% of the cost2.
Hey Girls Founder, Bec Lovely, says the environmental benefits of reusable period products alone are a great reason to shift away from single-use items such as tampons and pads.
"Concerningly, disposable tampons and pads are some of the major polluters of our environment. In fact, close to five period products can be found for every 100m of beach cleaned," Ms Lovely says.
"Using these products has a huge impact on our environment and so long-term, we'd really love to see the shift towards using sustainable products continue.
In addition to environmental impacts, the cost of single-use menstrual products adds up significantly over time, and the prices of these products can be inaccessible to those experiencing poverty, contributing to the broader issue of period poverty.
Ms Lovely added recent rises in inflation rates may be a driving factor toward the increase in people who menstruate opting for reusable products.
"The recent rises in inflation have caused the cost of living to increase, so those struggling may find themselves having to forgo single-use period products to afford their other groceries or to be able to pay their bills.
"This is a major concern considering the existing issue we have with period poverty in Australia. Reusable period products can effectively solve this issue, because although the upfront cost of reusable products like menstrual cups or period pants is higher than single-use products, the long-term cost is drastically lower," she says.
With more reusable period products available than in previous years, Ms Lovely says now is a great time for people who menstruate to explore the options available to them.
"Reusable period solutions have come such a long way – there's a variety of period cups available on the market these days, along with reusable pads and period pants. There's a solution for everyone, and I strongly encourage people who menstruate to at least explore the options out there," she says.
Hey Girls' plastic free disposable products are made with sustainably sourced bamboo and 100% certified organic cotton, and the reusable products are designed to last between five to 10 years preventing unnecessary waste. The packaging is designed to be zero waste and the wash bags are made from recycled plastic bottles that could have ended up in landfills or the ocean. For more visit heygirls.com.au.
About Hey Girls
Hey Girls is an award-winning social enterprise, producing environmentally friendly period products that fund the fight to end period poverty. Initially established in 2018 by Celia Hodson and her two daughters, Kate and Bec, as a kitchen table start up after experiencing period poverty themselves.
Hey Girls is all about conversation – in fact that's how its name was chosen; with one introductory phrase that started it all. Whilst Hey Girls appreciate the word 'girls' is gendered, the sentiment behind the saying is not intended to be exclusive. Hey Girls' core aim is to help eradicate period poverty in the UK, and now in Australia, through the provision of quality period products for everyone who needs it.
Citations1: www.lifecycleinitiative.org/wp-content/uploads/2021/07/UNEP-LCI-Single-use-vs-reusable-Menstrual-Products-Meta-study.pdf
2: Amy Hait, Susan E. Powers, The value of reusable feminine hygiene products evaluated by comparative environmental life cycle assessment, Resources, Conservation and Recycling, Volume 150, 2019