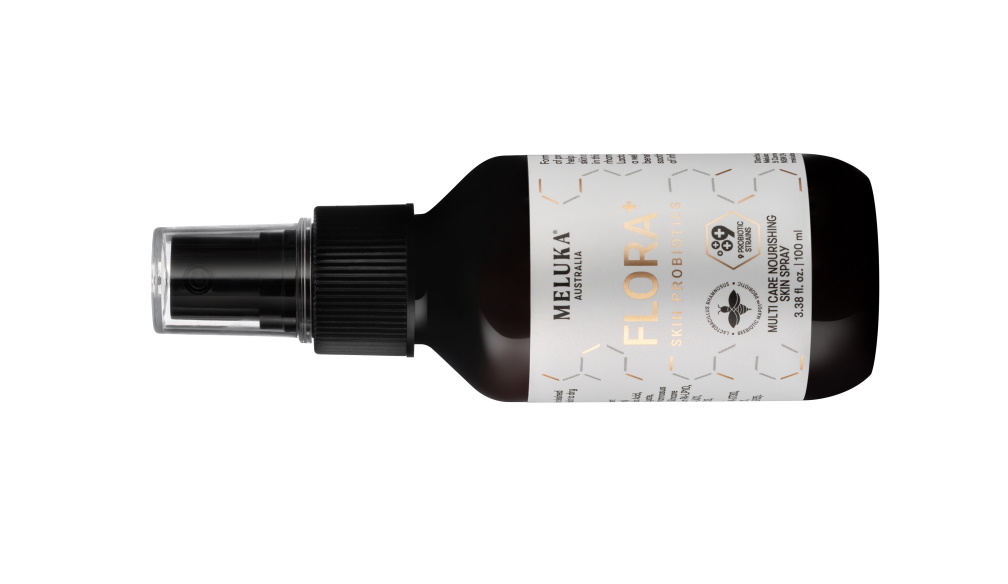 Renew, soothe, protect and nourish the skin and keep it feeling healthy thanks to Meluka Australia's new Flora+ Skin  Probiotics. Formulated with a specialised blend of probiotic strains that are known to help care and protect the skin  against daily stressors. This multi-care nourishing skin spray is available now at an RRP of $48 at  melukaaustralia.com.au and is suitable for the whole family. 
Ben Rohr, Founder of Meluka Australia says, "This is our first product in the skincare space and was created based on  the fact that your skin's surface is a microbiome in itself, and home to a complex ecosystem with billions of bacteria.  
"The stresses of modern living can lead to an imbalance within the skin's microbiome, just as it does in our gut which  some of our hero products focus on. This results in an overgrowth of bad bacteria and can lead to common skin issues  such as dryness, inflammation and skin irritations including eczema and acne. By introducing good bacteria, as found  in Flora+, back to the skin's surface can help restore balance which in turn will help to protect, soothe and improve  the appearance of damaged, aging, inflamed or stressed-out skin," said Ben. 
100% natural, this topical probiotic skin spray is formulated with 9 probiotic strains, well known for their skin health  benefits. Suitable for most skin types, this mild and gentle formula also features Australian tea tree, traditionally  known for its natural antibacterial and wound healing properties. 
Key Facts about Meluka Australia's Flora+: 
Suitable for most skin types, mild and gentle for sensitive skin 

No silicones or parabens 

Easy to use, spray-on application 

Features Australian tea tree and Lactobacillius rhamnosus Beebiotic MAP01™ probiotic strain

•

Improves moisture absorption to keep dry skin feel hydrated 

Soothes and helps to relieve inflamed skin 

Improves the appearance and fights the signs of aging skin 

Nourishes and protects the skin against sun-induced damage 

Introducing good bacteria to promote microbiome diversity and minimise the spread of bad bacteria &  inflammation 
This lightweight spray is gentle and easy to use on most skin typesfor face or body. Spray directly on your skin's surface  to nourish, hydrate and leave skin feeling renewed. Help soothe and calm irritated, itching or inflamed skin. Regular  use of topical probiotics over time can help build up your skin's natural defence and ability to stay hydrated. 
About the Lactobacillius rhamnosus Beebiotic MAP01™ strain: 
This unique strain is derived from beehives on our organic farm in the pristine rainforest region of Bungawalbin Valley  in Northern NSW. The Lactobacillus rhamnosus strain is a well-established strain of probiotics, known for its benefits  for skin health and can help soothe and improve the appearance of inflamed skin. 
Usage: Simply spray twice daily on the skin to start seeing the benefits of topical probiotics. Meluka Australia's new Flora+ Skin Probiotics is available now at an RRP of $48.00 from melukaaustralia.com.au.